Internet Banking 
Start banking online using Axis Bank.
Axis Bank provides easy steps to start online banking.
Assistance is available 24/7 for customers.
Avail of a variety of benefits and services by Axis through the online banking service. Hassle-free internet banking options make banking with Axis Bank the best. 
Internet Banking Registration

Online banking is secure with the added two-step authentication system of Netsecure.
Follow the below steps for Internet banking registration and start banking online.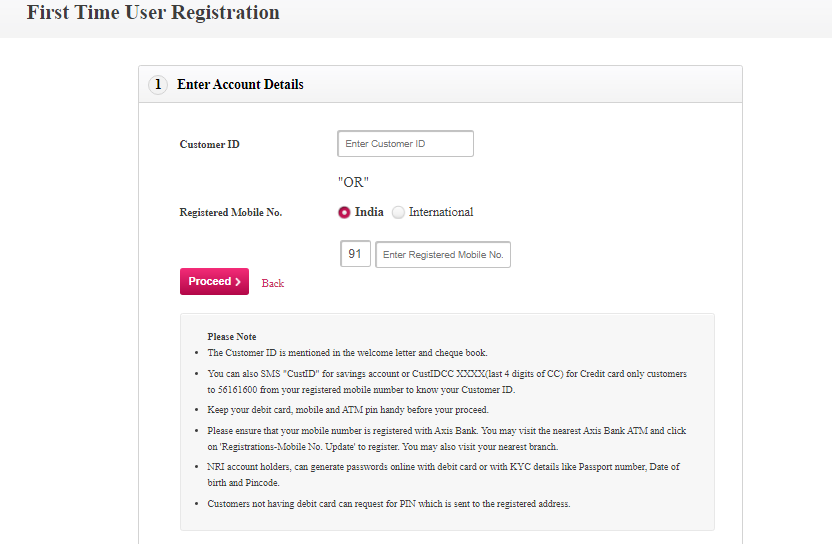 For Retail / Agri-Rural customers

To login to internet banking, you need the login id which is the same as your 9-digit Customer ID (mentioned on the welcome letter and printed on your checkbook), along with your login password.
You can also obtain your Customer ID by sending an SMS CUSTID to 56161600.
New users can generate a password online by using the 'First-time user option'. You can generate the login password using your debit card 4-digit ATM Pin and your registered mobile number.
If you have not applied for a Debit Card, a printed password will be delivered to you by courier. To To
login for the first time, click here.
In case you have forgotten your password click on the "Forgot Password" link on the login page and generate your password online.
If you want to generate your password now, please click here. For generating your password.
Alternatively, you can also log in to internet banking using your Debit Card No. and Pin.
Simply click on "Debit Card No." above the login window, in the details and authenticate the OTP sent to your registered mobile no.  
FundTransfer
Experience secure and smooth online fund transfer through Axis Bank, anywhere and anytime.
Access various forms of online money transfer with the help of Axis Bank features- NEFT, RTGS, IMPS, Instant Money Transfer, Visa Money Transfer, IFSC, ECS at your fingertips.
NEFT (National Electronic Fund Transfer)

Nowadays it's quick, convenient, and extremely easy to transfer money because technology has reached another level. National Electronic Fund Transfer or NEFT as it is known is a quick and fast way of transferring funds from a particular bank to any other bank that is a participant in this scheme.
READ MORE

About National Electronic Fund Transfer
RTGS (Real-time Gross Settlement)

Money transfer has become a lot easier with technology becoming a major part of our day to day lives. Real-time gross settlement systems (RTGS) is a funds transfer system where money transfer takes place from one bank to another on a "real-time" basis and "gross" basis.
READ MORE

About Real-time Gross Settlement
IMPS (Immediate Payment Service)

IMPS is an instant interbank electronic fund transfer service available 24×7, throughout the year including Sundays and any bank holiday. Customers can transfer and receive funds via IMPS using their registered Mobile number and Mobile Money Identifier (MMID) or through Internet Banking.
READ MORE

About Immediate Payment Service
Instant Money Transfer (Cash transfer, cardless withdrawal)

Instant Money Transfer (IMT) is an innovative domestic service that allows you to send cash to a receiver. All you need to do is mention the receiver's mobile number and issue IMT. Receivers need not have a bank account and can make a cardless withdrawal, from any ATM of the banks impaneled.
READ MORE

About Instant Money Transfer Cash transfer, cardless withdrawal
Visa Money Transfer

Axis Bank offers you Visa enabled services to conveniently pay bills of a Visa Credit Card issued by any bank, or transfer money to a beneficiary's bank account using the Visa Debit Card number. The Visa Money Transfer facility can be accessed through the Internet by going to the option, Log on to Axis Bank Internet Banking.

READ MORE

About Visa Money Transfer
IFSC (Indian Financial System Code)

The world of banking has changed drastically over the last few years. The Indian Financial System Code is critical for NEFT and RTGS transactions. The Indian Financial System Code is an alphanumeric code that uniquely identifies a bank-branch and ensures secure transactions.

READ MORE

About Indian Financial System Code

ECS – Electronic Clearing Service

Electronic Clearing Service(ECS) is an electronic clearing system that facilitates paperless credit/debit transactions directly linked to your account and also provides for a faster method of effecting periodic and repetitive payments.

READ MORE

About Electronic Clearing Service
Pay utility bills Online

Axis Bank provides features to recharge online, pay bills online, and shop online. Avail Prepaid Mobile Recharge, DTH Recharge, etc. Pay Utility Bills Online – Mobile bills, Electricity Bills, Gas Bills, Landline Bills, etc. using Internet Banking. Make Tax Payments, Investments, and Donations through Internet Banking safely and conveniently.
Recharge through Internet Banking

Prepaid Mobile Recharge
Avail of instantaneous, hassle-free prepaid mobile recharge online
The facility can be used by all Axis Bank customers.
Use your Bank Account to recharge your prepaid mobile phone instantly using Axis Bank's Online Recharge facility.
The process of recharging is hassle-free and instantaneous.
To recharge through Internet banking, follow the steps mentioned below:

Step 1: Log in to your Axis Internet Banking
Step 2: Go to Payments and click on Recharges
Step 3: Select Mobile and click on Add New Connection
Step 4: Once registered, select the number and click on Recharge
Axis Mobile  

Axis Mobile is a safe and secure mobile banking application from Axis Bank, with 100+ features and services satisfying more than just banking needs.
It is a convenient way to access accounts, transfer funds, pay bills, link other bank accounts using UPI, and more exciting features on the go.
Simply follow these steps to onboard and get started with Mobile Banking.
1 . Download the Axis mobile banking App or SMS or Call us on the toll-free number for the download link
SMS MBANK to 56161600
NRI customer can SMS MBANK to 8691000002
Missed call on- 8422992272 from registered mobile number
2. Register With Axis mobile Banking App
Step 1: Click on Login

Enter your name
Set MPIN for registration

Step 2: Authenticate through Internet Banking

Enter Login Id and Password

Note:

the customer must register their mobile number with the Bank.

Eligibility :

Saving account Customers
Current account Customers
NRI Customer: Non-Axis Customer can onboard be using UPI
Disclaimer
We give details according to specific bank data. But remember before going to pick up anyone's Credit card must visit the respective Bank's website. Check the details of the card like Fees, Interest rate, Rewards, etc. because it maybe changes. Hence you need to be aware of the changes happening in most out of your credit cards.
The information and services included on this Web site may include discrepancies. Paidkiya will not be liable/responsible for any decision that you may take based on such inaccurate information. Changes are periodically added to Bank's websites.