Pay your HDFC Bank credit card bills online or offline via a range of convenient options.
You can choose to pay via your HDFC Bank Account using Netbanking, Phonebanking, mobile app, mobile site, ATM, cash, or cheque. You can even pay your HDFC Bank Credit Card bill using a non-HDFC Bank Account.

NEFT/IMPS (for other bank account holders)

You can transfer funds from any other bank account to your HDFC Bank Credit Card account electronically.
For further information, click here. Please contact your bank for more details on NEFT.
Use IFSC Code HDFC0000128 for card payment through NEFT/IMPS. For details on Visa Money Transfer, click here.

Pay via Mobile App

Easily pay your credit card bills through your mobile phone.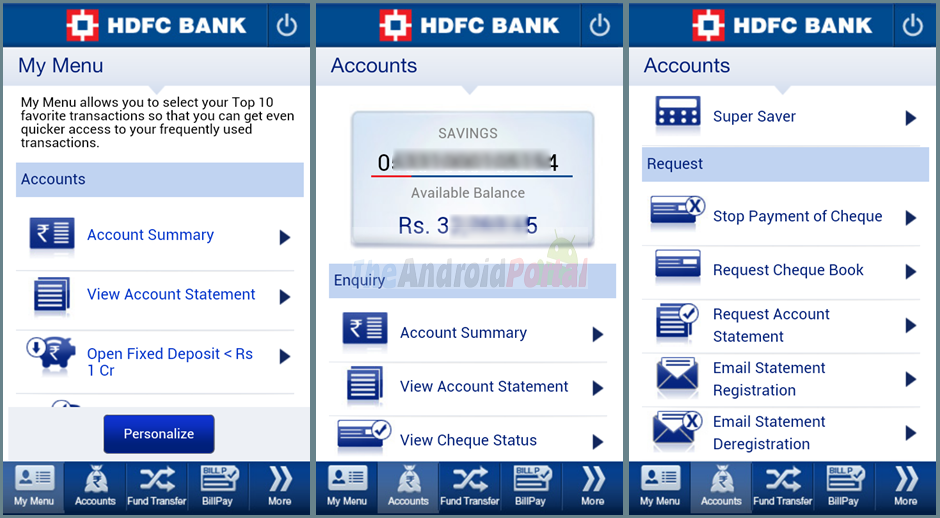 HDFC MobileBanking App

Available across devices and operating systems
Pay your bills anytime, anywhere
Enjoy high levels of protection for your transactions
Banking With HDFC Bank's MobileBanking App Is…

Simple and always on

Apps are custom-designed for each operating system
The service is available 24×7

Secure Transact safely with high-level security

Transact over a platform as secure as NetBanking
Stay safe with password-protection and encryption

Convenient Bank from your home, office, or on the go

Perform 125+ transactions – transfer funds, pay utility and card bills, buy and sell mutual funds, view account information
Use the app across a wide variety of phones, tablets, and operating systems

Steps for iPhone

Step 1: Search 'HDFC Bank' on your iPhone's app store
Step 2: Download it
Step 3: Enter your customer ID and password to start banking

Steps for Android

Step 1: Search for HDFC Bank on the Play Store of your Android phone
Step 2: Download the HDFC Bank MobileBanking App
Step 3: Enter your customer ID and password to log in

Pay via Billdesk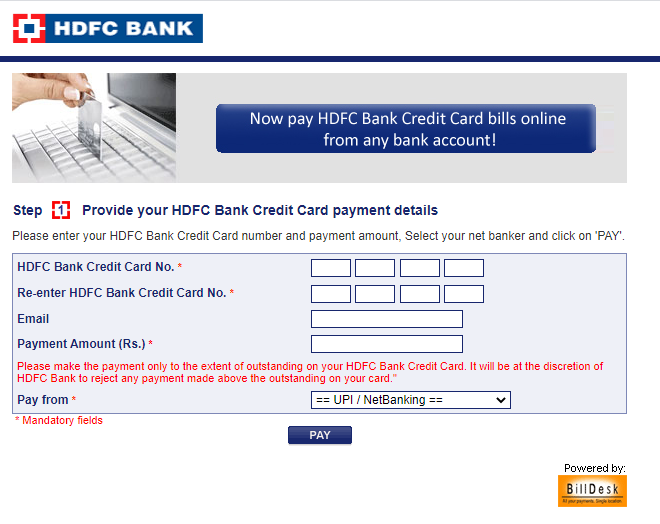 Pay Via Billdesk For Non-HDFC Bank Account

Pay your bills online
Pay from over 50 banks

Non-HDFC Bank NetBanking
HDFC Bank NetBanking

HDFC Bank savings/ current account holders can register for NetBanking and transfer the card outstanding amount online.
To link your credit card to NetBanking, please log in to your HDFC Bank NetBanking account and link using your Credit Card ATM PIN.
To register for NetBanking click here.
Pay via Account

Use your HDFC Bank account to easily pay credit card bills of other banks through BillPay

BillPay

Pay instantly or automatically, via card or account
Pay right away or schedule payments through Netbanking
Set standing instructions to autopay recurring bills
Add biller once, receive bills directly in your account
Features

Convenient: Pay easily via credit or debit card or account
Automatic: Get 5% CashBack for the first 12 months by setting standing instructions for recurring payments
Safe Transact via a highly secure interface
Charges: The service is free to use
Easy payments: Pay via a simple process – add a biller once, and automatically receive bills in your account
Make utility and service payments—mobile, DTH, electricity, gas, insurance, broadband, telephone, mutual funds, etc.
Multiple options: Make a one-time payment, schedule a payment, or set standing instructions to autopay recurring bills
Pay using your credit card, debit card, or bank account
Simple to manage: Manage and pay your bills via a single interface
No need to stand in queues or write cheques
>>

Get started in easy steps
To add a biller

Step 1: Log into your NetBanking account
Step 2: Choose BillPay
Step 3: From the options, add a biller
Step 4: Enter your details (like consumer number)
Step 5: Choose your payment option (standing instructions, etc.), choose how you want to pay (credit card, debit card, or account)
Step 6: Confirm

To make payments

Step 1: Log into your NetBanking account
Step 2: Choose BillPay
Step 3: Select View & Pay Bills
Step 4: Choose a bill
Step 5: Make payment
Disclaimer
We give details according to specific bank data. But remember before going to pick up anyone's Credit card must visit the respective Bank's website. Check the details of the card like Fees, Interest rate, Rewards, etc. because it maybe changes. Hence you need to be aware of the changes happening in most out of your credit cards.
The information and services included on this Web site may include discrepancies. Paidkiya will not be liable/responsible for any decision that you may take based on such inaccurate information. Changes are periodically added to Bank's websites.