Cashback
1. Standard Chartered Ultimate Card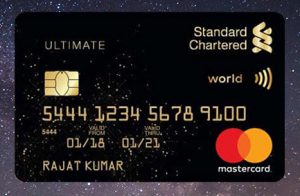 Annual Fee – Rs. 5,000
Rewards Rate Details

5 points per Rs. 150 spent on all transactions
5% cashback on duty-free spend
33% cashback on all spending categories
25% Discount* at top restaurants in India
Benefits & Perks

Priority Pass membership (USD 27/visit, waived once monthly if last month's spend > Rs. 20,000); Visa Lounge access (4 free visits/quarter, major airports in India)
2 free domestic golf games/month (1 free guest game/month), 1 free golf coaching session/month
Air accident cover of Rs. 1 crore, emergency medical, bag delay, loss of bags/personal documents, hijacking, and flight delay coverage
5% cashback* on duty-free spending and access to over 1000 airport lounges across the world.
10,000 on MakeMyTrip, 3.33% on all spend
Promotions:

Sign-Up Bonus: Up to ₹ 10,000 cashback on MakeMyTrip if booked within 90 days of card issuance
Renewal benefit: 5,000 points
2. IndusInd Iconia Amex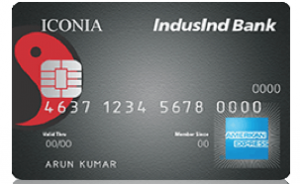 Joining Fee – Rs. 3,500
Income Requirement – None listed by the issuer
Age Requirement – None listed by the issuer
Rewards Rate Details

2 points per Rs. 100 spent on weekends
5 points per Rs. 100 spent on weekdays
7 points per Rs. 100 spent on utility bill payments
Points redemption rate: 1 point = Rs. 1
5% on weekdays, 2% on weekends
Benefits & Perks

2 quarterly visits to domestic American Express airport lounges
3 free tickets a month from BookMyShow and a buy one get one free offer
4 free tickets a month at Sathyam Cinemas and a buy one get one free offer (in Chennai only) The card also offers a 20% discount at Lemon Tree Hotel properties
Up to Rs. 225,000 in travel insurance
Free golf games
Travel Cashback
1. SC Yatra Platinum Card
Joining fees – ₹ 499
First Year Annual Fees – ₹ 499
Renewal Fees from 2nd Year – ₹ 499
Interest Rate/ Finance Charges per month – 3.49%
Brand Partner – Yatra.com
Late Payment Charges – ₹ 800
Reward

Earn 4 reward points for INR 100 spent on Yatra.com
Earn 2 reward point for every INR 100 spent on all other categories
10% cashback on travel bookings
Features

Book your travels with yatra.com and enjoy the benefits of cashback, rewards, fuel surcharge waiver, and more
Enjoy a host of discounts and offers across dining, shopping, travel, and more
Welcome gift of travel vouchers worth Rs. 4,000 from yatra.com
Avail of 20% cashback on all Uber rides, capped to Rs. 600 in a month. However, for this to avail, the total monthly spending in a calendar month has to be more than Rs. 15,000.
Benefits

Earn 4x reward points on every Rs. 100 spent on yatra.com
Earn double the reward points on Rs. 100 for all other expenditures
Earn 10% cashback on travel bookings made through yatra.com
Get waivers on Yatra cancellation fees for all tickets booked on yatra.com
Earn fuel surcharge waiver of 1% on all fuel expenditures
2X Rewards on other spends
Online
1. SimplyCLICK SBI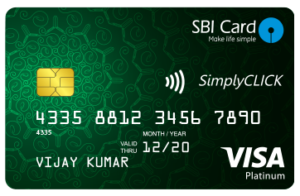 Annual Fee – ₹499
Fee reversed if Annual Spends for last year – ₹1 lac
Joining Fee – ₹499
Best suited for

WELCOME OFFER
REWARDS
DINING
Features

Welcome Benefits

Get a welcome e-gift card worth Rs. 500 from Amazon.

5% on Amazon, Cleartrip, Foodpanda & more
Annual Milestone Benefits

Get Cleartrip e-voucher worth Rs. 2,000 on reaching spend milestones of Rs. 1 Lakh and Rs. 2 Lakh on your credit card.

Earn Reward Points in the following manner

Earn 10 reward points per Rs. 100 on online purchases made on Amazon, BookMyShow, Cleartrip, Netmeds, Lenskart, and UrbanClap
Earn 5 rewards per Rs. 100 on other online spends
Earn 1 reward point per Rs. 100 spent on other categories
Benefits

Annual Fee Reversal

Get the annual fee of Rs. 499 reversed on spending Rs. 1 Lakh or more in the previous year.

Fuel Surcharge Waiver

Get a 1% fuel surcharge waiver for each transaction between Rs. 500 and Rs. 3000. Maximum waiver in a month is capped at Rs. 100.

Bill Payment Facility

You can set standing instructions on your credit card for the payment of utility bills like telephone, electricity, mobile, etc.

Contactless Payment

Just touch/hover the card at an NFC enabled POS terminal to make payments up to Rs. 2,000
Groceries
1. Kotak Essentia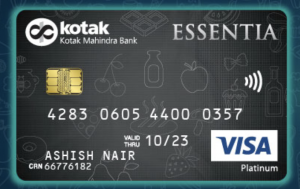 Joining Fee – ₹1,499
Annual Fee – ₹749
Rewards Rate Details

10% cashback on grocery and retail spending
0.40% on general spending rewards rate
Promotions:

Spend ₹ 125,000 every 6 months and get 1200 points (Up to 2400 points per year) OR Spend ₹ 125,000 every 6 months and get 6 free PVR tickets (max 12 per year)
Benefits:

10% Savings on Departmental & Grocery Store spends
Essentia gives you 10 Saving Points for every Rs. 100 you spend at Departmental & Grocery Stores.
1 Saving Point = Re. 1
Minimum transaction size: Rs. 1500
Maximum transaction size: Rs. 4000
Maximum Saving Points for a month – 500 valued at Rs. 500
What's more, you earn 1 Saving Point for every Rs. 250 you spend on other categories* without any restrictions. So you save with every transaction!
2. SBI FBB StyleUP Credit Card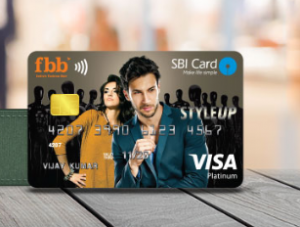 Annual Fee (one-time): Rs. 499 + GST
Renewal Fee (per annum): Rs. 499 + GST
Add-on Fee (per annum): Nil
Welcome gift:

500 worth Fbb gift voucher
Anniversary gift* of 2,000 Bonus Reward Points every year
FBB Gift Vouchers can be redeemed at any Big Bazaar/ FBB store, against select fashion categories only*.
Gift Voucher should be redeemed in full. Partial or cash redemption is not valid.
No duplicate Gift Voucher will be reissued in case it's lost or misplaced. Voucher Validity is of 1 year from its date of issue
Discount Waiver

An upfront discount* of flat 10% round the year, whenever you shop for Fashion Apparel, Accessories, Backpacks, Footwear & School Bags at Fbb and Big Bazaar Stores
5% on FBB/Big Bazaar, 2.5% on Food Bazaar & dining
No cap on count or value of daily, monthly, or yearly discount transactions
10X Reward Points on your spending at Big Bazaar, Standalone Fbb, and Food Bazaar outlets, and on all your Dining expenditures
Fuel Surcharge Waiver

Get freedom from paying the 1% fuel surcharge on every transaction of Rs. 500 to Rs. 3,000
A maximum surcharge waiver of Rs. 100 can be availed per cycle on your STYLEUP Card
Dining & Entertainment
1. Kotak Delight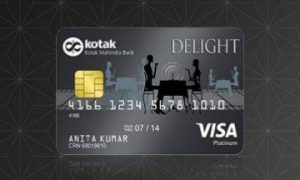 Joining Fee – Rs. 1,999
Annual Fee – Rs. 299
Features and Benefits

Dining Offers – Users get 10% cashback on dining spends if they spend over Rs. 10,000 in categories other than dining and entertainment within the billing cycle. Users can get a maximum cashback of Rs. 600 in a billing cycle. Earned cash back limit is shared between dining and entertainment spends
Movies Offer –Customers get 10% cashback on movie spends if they spend Rs. 10,000 in any category except dining and entertainment within a billing cycle. The maximum cashback that can be earned per billing cycle is Rs. 600. The earned cashback cap is shared between dining and entertainment transactions
Fuel Surcharge Waiver –Users get surcharge waiver on fuel up to Rs. 4500 in a year. The offer is applicable on all fuel purchases where the amount spent is between Rs. 400 and Rs. 4000
Railway Surcharge Waiver –Users get a maximum railway surcharge waiver of Rs. 500 annually
Milestone rewards:

If the total value of all the card transactions exceeds Rs.1.25 lakh every six months, you can either opt to receive Rs.750 cashback or 4 complimentary PVR tickets.
You can avail of up to Rs.1,500 cashback or 8 complimentary PVR tickets per year.
The complimentary PVR tickets can be availed of within 3 months of the end of the program.
2. Standard Chartered Super Value Titanium Card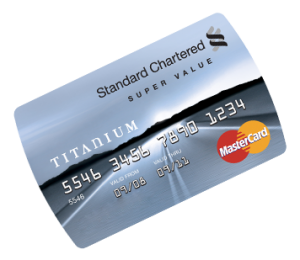 Joining Fee – Rs 750 Get 100% onetime cashback (up to INR 1500) on Fuel spends within 1st 90 days
Renewal Fee – Rs 750 waived on spending Rs 90,000 in the Year
Features

Earn 1 reward point for every Rs. 150 spent where 1 reward point = Rs 0.30.
Get 5% cashback on fuel, phone, and utility bills
Complimentary Priority Pass allowing access to 1000+ airport lounges worldwide with one free usage per month
Bookmyshow vouchers worth Rs. 1,000. Terms & Conditions apply
Annual fee waiver on spending Rs. 60,000 and more in a year
Benefits

Earn 5% cashback on fuel spends across all fuel stations up to a maximum of Rs. 200 per month
Earn 5% cashback on telephone bill payments up to a maximum of Rs. 200 per month
Earn 5% cashback on utility bill payments up to a maximum of Rs. 100 per month
Enjoy 5x rewards for overseas point-of-sales spends
Get 15% off at over 850 restaurants in India
Disclaimer
We give details according to specific bank data. But remember before going to pick up anyone's Credit card must visit the respective Bank's website. Check the details of the card like Fees, Interest rate, Rewards, etc. because it maybe changes. Hence you need to be aware of the changes happening in most out of your credit cards.
The information and services included on this Web site may include discrepancies. Paidkiya will not be liable/responsible for any decision that you may take based on such inaccurate information. Changes are periodically added to Bank's websites.