1. Amex Platinum Travel Credit Card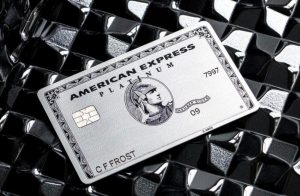 Annual fee

First-year fee: Rs. 3,500 plus applicable taxes.
Second-year onwards: Rs. 5,000 plus applicable taxes
Welcome Gift 

5,000 Milestone Bonus Membership Rewards Points redeemable for Travel Vouchers worth Rs. 3,500
Rewards:

Welcome Gift: Rs.4,000 Worth Indigo Vouchers
Spend Rs.1.90 lakhs in a year to get: 7,700Worth Spicejet Vouchers
Spend Rs.4 lakhs in a year to get: 11,800Worth Spicejet Vouchers + Rs.10,000 Voucher from the Taj Group
Reward rate: Upto ~8%
Complimentary Airport lounge access: Yes, 4 Lounges per year. Most Mastercard Lounges are allowed in this Program.
Foreign Exchange Markup fee: 3.5% + Service Tax
Effective 20th August 2020, you can also redeem your Membership Reward points obtained on a spend threshold of Rs. 1.9 lacs and Rs. 4 lacs in a Cardmembership year for Flipkart vouchers worth Rs. 5,000 and Rs. 8,000 respectively until 31st December 2020. 
Offers and Privileges

Enjoy complimentary membership6 to Priority Pass, with the US$99 annual membership fee waived off exclusively for you.
Fuel Convenience Fee Waiver
Enjoy exciting discounts of up to 20% every time you dine at select restaurants.
Split the payment and not the joy. Use your American Express Credit Card for your next big purchase
Services offered by American Express

24x 7 Platinum Assist
Zero Lost Card Liability*
Emergency Card Replacement
Online Fraud Protection
Contactless Payments
International Card Accepted Worldwide
2.  HDFC Diners Black Credit Card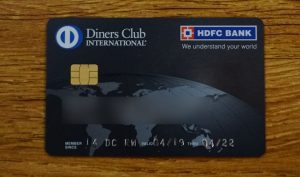 Joining fee  Rs.10,000 
Renewal fee Rs.5,000 
Interest rate 1.99% per month 
Welcome benefits:

You receive complimentary annual memberships from Club Marriott, Forbes, Amazon Prime, etc. when you complete your first transaction with the card.
Annual benefits:

You receive complimentary annual memberships once you spend Rs.8 lakh within 12 months from the date on which the card was issued.
Monthly milestone benefits: 

Whether you are a new HDFC Bank Diners Club Black Credit Cardholder or an existing holder, you can choose any two monthly vouchers from TataCLio or BookMyShow or Ola Select Membership worth Rs.500 per month provided you spend Rs.80,000.
Reward Points Programme

Earn 5 reward points for every Rs.150 spent on the card except on fuel transactions.
The accrued reward points can be redeemed for air tickets or hotel bookings made through the HDFC Diners Club website.
Reward points can also be redeemed for air miles across various airlines and for gifts and rewards listed in the exclusive reward redemption catalog for Diners Club Black Credit Card.
Travel Benefits offered by HDFC Diners Club Black Credit Card

You can book air tickets or make hotel reservations across 150 airlines and hotels (international as well as domestic).
You can redeem reward points for booking air tickets or making hotel reservations across a variety of options (international as well as domestic).
One reward point is equal to one rupee.
You can redeem reward points for Airmiles across a variety of airlines such as British Executive Club (Avios), Singapore Airlines (KrisFlyer Miles), Club Vistara, and Jet Airways (JPMiles). Make sure that you complete the frequent flyer registration via net banking before attempting to redeem your Airmiles.
Your card can be used internationally and you can also increase your international daily limit via net banking.
You get unlimited access to 800+ airport lounges across the globe. The access is complimentary for primary cardholders as well as add-on cardholders.
Travel cover

Air accidental death coverage of Rs.2 crore.
Credit liability cover of up to Rs.9 lakh.
Emergency overseas hospitalization of Rs.50 lakh.
Travel insurance covers up to Rs.55,000 on baggage delay.
Preferential financial benefits

Low foreign currency markup of Rs.1.99%.
Up to 50 days of interest-free credit.
Convenience fee waiver of 1% on all fuel transactions.
Wellness benefits:

HDFC Bank Diners Club Black Credit Cardholders get access to exclusive discounts at major salons, spas, gyms, etc.

Salon/Spa: The salons and spas you can access and avail discounts at with your HDFC Bank Diners Club Black Credit Card include Four Fountains De-Stress Spa, Tattva Spa, VLCC, Jean Claude Biguine, Enrich Salons & Academy, and O2 Spa.
Spa Resort: The spa resorts at which you can avail of discounts with your HDFC Bank Diners Club Black Credit Card include Tree of Life, Neemrana Fort Palace Rajasthan, Red Earth Kabini, Kairali, Tijara Fort Palace Rajasthan, Shreyas Retreat Bangalore, and NaturOville Vedic Retreat Rishikesh.
Nutrition: The nutrition centers where you can avail of discounts using your HDFC Bank Diners Club Black Credit Card include Grow Fit, Gympik, Calorie Care, and Healthie.
Fitness: The fitness centers where you can avail of discounts using your HDFC Bank Diners Club Black Credit Card include Golds Gym, Cult.fit, Krus Gethin, and Anytime Fitness.
Online doctor consultation: You can avail of discounts on DocsApp using your HDFC Bank Diners Club Black Credit Card.
Gold program:

Get six complimentary golf games per quarter on golf courses across the globe.
The HDFC Bank Diners Club Black Credit Card provides 24-hour Golf Concierge Assistance services access.
Concierge:

The HDFC Bank Diners Club Black Credit Card offers exclusive 24×7 concierge services on the following:

Golf course referral as well as reservation assistance
Gift and flower delivery assistance
Limousine referral and car rental and assistance
Business services
Hotel reservation and referral assistance
Courier service assistance
3. Axis Bank Privilege Credit Card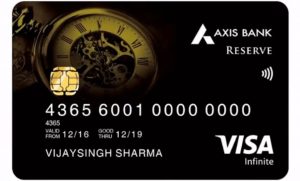 Joining/Renewal Fee – Rs.1,500+tax (Renewal Fee Waiver on Rs.4L spend)
Welcome Gift – Get 12,500 reward points that can be redeemed against Paytm flight and hotel vouchers. Complete 3 transactions within 60 days after paying the joining fee to avail of the offer
Milestone Bonus – Spend Rs. 2.50 Lakh in a year to get Paytm flight and hotel vouchers worth double the reward points accumulated.
Annual Benefits

Earn 3,000 reward points on payment of renewal fees
Get annual fee waiver on spending Rs. 2.50 Lakh in a year
Lounge Access – Get 2 complimentary lounge visits to domestic airport lounges per quarter.
Reward Points – Earn 10 Reward Points on every Rs. 200 spent across all categories.
Extraordinary Weekends – Avail of pre-planned experiences courtesy of 'Extraordinary Weekends' by Axis Bank.
Dining Offers – Get 20% off at select restaurants.
Fuel Surcharge Waiver – Get waiver on all fuel transactions between Rs. 400 and 4,000. Maximum discount of Rs. 400 can be availed in a month.
Insurance

Air accident cover up to Rs. 2.50 Crore
Purchase Protection Cover up to Rs. 1 Lakh
Credit Shield of Rs. 1 Lakh
Loss of travel document up to USD 300
Delay of Check-in Baggage up to USD 300
Loss of Check-in Baggage up to USD 500
4.  Jet Airways American Express Platinum Credit Card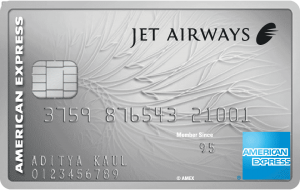 Annual fee

First-year Fee: Rs. 5,000 plus applicable taxes
Second-year onwards: Rs. 10,000 plus applicable taxes
iPrefer Elite Tier membership

Enjoy complimentary iPrefer Elite Tier membership3 from Preferred Hotels & Resorts
Other benefits

American Express SelectsSM  Dining Programme – Enjoy up to 20% discount at select premium restaurants, multiple cuisines & more.
Fuel Convenience Fee Waiver
Contactless Payment
8 InterMiles for every2 Rs. 150 spent except for spend at Fuel, Insurance, Utilities, and Cash Transaction
5.  SBI Air India Signature Card
Annual Fee ( one time) – Up to Rs. 4,999
Renewal Fee (per annum) – Rs. 4,999 from second year onwards
Welcome Gifts

Earn 20,000 reward points as a welcome gift on payment of the joining fee. Secure complimentary membership of the Air India frequent flyer program-flying returns.
Features

Lost Card Liability Cover

Enjoy complimentary lost card liability cover of Rs. 1 lakh
This cover is applicable from the period of 48 hours prior to reporting of loss till 7 days post the reporting of loss

Access Cash Anytime, Anywhere

Withdraw cash from over 1 million Visa ATMs worldwide including over 18,000 Visa ATMs in India. You can also withdraw from 10,000 State Bank of India ATMs across 100 cities in India

Fuel Surcharge Waiver

Get a 1% fuel surcharge waiver with your Air India SBI Signature Card, across all petrol pumps
Purchase fuel worth Rs. 500 to Rs. 4,000, to avail this benefit

Get maximum surcharge waiver of Rs. 250 per statement cycle. Applicable taxes extra wherever applicable
Global Acceptance

Accepted at over 2 million Visa outlets worldwide and over 2,85,000 outlets in India

Empower your Family

Empower your family by applying for add-on cards for your spouse, parents, children, or siblings above the age of 18

Easy Bill Pay Facility

Never miss the due date for paying your electricity, insurance, telephone, and other utility bills, with the Easy Bill Pay facility on your card

Railway Ticket Booking

With your Air India SBI Signature Card, you can book railway tickets online and get them delivered at your doorstep.

Emergency Card Replacement

Get your Air India SBI Signature Card replaced anywhere in the world
24×7 helpline for emergency card replacement even while traveling Abroad
6. Citi Premier Miles Credit Card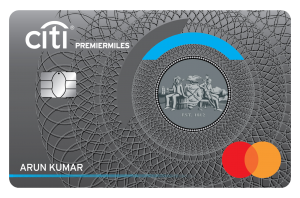 Annual Fee: ₹3000
Joining Fee: ₹3000
Welcome Benefits

Spend Rs. 1,000 or more in the first 60 days of card activation and get 10,000 miles as a welcome gift.
Rewards Program

The cardholder gets 10,000 air miles on spending Rs. 1000 within 60 days of issuance
3,000 Air Miles are credited on card renewal
Earn 10 Air Miles on every Rs. 100 spent on airline transactions
Accelerate your air mile earnings 10 times when booking tickets or hotel stays through the Premier Miles official website
Get 1 Frequent Flyer Air Mile for every 2 miles when transferring air miles to partner airlines
Complimentary air accident insurance coverage up to  1 crore
Up to 20% savings at participating restaurants
Benefits worth  19,000+ in the first year. This is subject to change basis your spending pattern
Features and Benefits:

This card comes with countless features, ideal for the frequent flyer. Read on to find out more about the unique features that come with the PremierMiles card.
Travel benefits:

Enjoy hotel deals through Citi World Privileges across the globe in more than 90 countries.
Instant reward points redemption through SMS at leading partner brands of Citibank.
Free access to select airport lounges across India
EMI benefits:

Turn any big transaction on the Citi PremierMiles Credit Card into EMI with ease.
Instant loan benefits:

 Avail of instant loans on your Citi PremierMiles Credit Card.
Dining benefits:

Avail of great discounts and offers on dining using your Citi PremierMiles Credit Card.
Enjoy savings of up to 15% at restaurants at Mumbai and Hyderabad airports with your credit card.
Enjoy the benefits of 2x rewards through EazyDiner Prime annual subscription along with 50% cashback.
Lifestyle offers:

Enjoy great deals on lifestyle shopping using your Citi PremierMiles Credit Card.
Enjoy as much as 15% cashback on duty-free shopping across the country.
Contactless benefits:

Enjoy the benefit of seamless and easy payments for transactions of up to Rs.2,000 through the contactless feature of your Citi PremierMiles Credit Card.
7.  SBI IRCTC Credit Card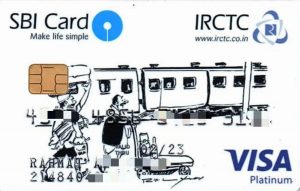 Annual Fee (one-time): Rs. 500
Renewal Fee (per annum): Rs. 300
Add-on Fee (per annum): Nil
Welcome Gift

Get 350 activation bonus Reward Points on a single transaction of Rs. 500 or more within 45 days of card issuance. Fuel and Cash spend are not included.
Earn Rs. 100 cashback on your first ATM cash withdrawal within 30 days of receiving the card
Bonus Reward Points will be credited to the IRCTC SBI Platinum Card account within 45 days of the eligible transaction
Value Back Benefits

Buy tickets through irctc.co.in for AC1, AC2. AC3 and AC CC and earn up to 10% Value back as Reward points. (1 Reward Point = Rs. 1)
Get 1 Reward point for every Rs. 125 spent on non-fuel retail purchases, including railway ticket purchases at irctc.co.in
Link your IRCTC SBI Card loyalty number with your  irctc.co.in login id, to redeem your reward points
Travel Offers from IRCTC

Save 1% transaction charges on railway ticket bookings on www.irctc.co.in

Log on to irctc.co.in and avail exclusive travel privileges
Book your airline tickets with IRCTC at unbeatable prices

Get a wide range of tailor-made packages ranging from adventure, wildlife, pilgrimage, and leisure tours to various places in India
Avail accommodation at over 5,000 hotels, covering 350 cities in India
Fuel Surcharge Waiver

Enjoy freedom from paying the 1% fuel surcharge across all petrol pumps in India, on transactions of Rs. 500 – Rs. 3,000, exclusive of GST and other charges
Get maximum surcharge waiver of Rs. 100 per statement cycle per credit card account
Other features:

Visa Offers: You get exclusive privileges from Visa including great deals on entertainment, travel, dining, and golf.
Global Acceptance: The IRCTC SBI Platinum Card is accepted worldwide at over 29 million merchant outlets and at 3,25,000 merchant outlets in India, through the Visa payment gateway.
24/7 Assistance: State Bank of India provides 24/7 Visa Global Customer Assistance and the 

I

RCTC SBI Platinum Card Customer Helpline to cardholders to help them during any emergency situation.
Utility Bill Payments: You can easily pay your utility bills like telephone bills, electricity bills, insurance, etc. without any hassles. SBI provides this service to its customers free of cost.
Add-on Cards: You can also apply for add-on cards for your spouse, parents, children, and siblings above the age of 18, without additional charges.
Flexipay: Using the Flexipay feature, you can convert all your purchases over Rs.2,500 into EMI within 30 days of the transactions.
8.  JetPrivilege HDFC Bank Signature / World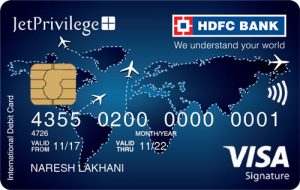 Pricing

Joining and Renewal Fee- Rs 2500+GST
Network:  MasterCard
Card Type: Travel,  Premium, LifeStyle
Welcome Gifts

As a welcome gift get up to 7500 JP Miles
Get renewal benefit of 3000 JP Miles
Rewards

Spend a minimum of Rs 150 on retail expenses and get 6 JP Miles
Spend a minimum of Rs 150 on flight booking and get 18 JP Miles
Get 3x bonus points on your flight booking through Jet Airways.
Features

Spend a minimum of Rs 3 lac and get the renewal fee waived off for the next year. Get fuel surcharge fee of 1% across India
This card is embedded with a small microchip to make your transaction more secure
In case of loss or damage of your card report instantly to 24×7 assistance and get zero liability on any fraudulent transaction made on your card.
Get an interest-free credit period of up to 50 days.
Add any 3 of your family members with Add-On card facility
Spend a minimum of Rs 2 Lac and get 1 JP Tier Point
Get access to the best lounge program across all airports in India
Get 4 complimentary lounge visits per quarter.
Priority Pass Membership

Get complimentary enrollment worth $99 into the Priority Pass Programme
Get access to more than 600 Airport Lounges globally.
The primary cardholder can get up to 5 free visits to the International Lounges per year. Privileges on Jet Airways
Get up to 5% discount on your all domestic booking.
Enjoy premier check-in for all domestic flights of JetAirways
Get complimentary excess Baggage Allowance of 10Kgs in Premiere and 5Kgs in Economy
Renewal Benefit

Get complimentary Jet Airways base fare waived Ticket Code for domestic travel on Jet Airways across India
Get a discount voucher code worth Rs 750 on return tickets
9.  6E REWARDS XL- INDIGO HDFC BANK CREDIT CARD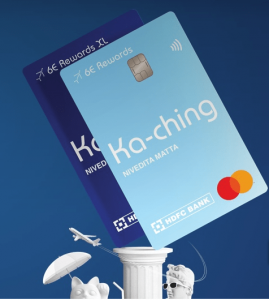 Pricing

Joining Fees- Rs 2500+GST
Annual Fees- Rs 2500+GST
Add-on card fees- Nil
Network: MasterCard
Card Type: Travel, Premium, Rewards
Welcome Gifts

 Get 1 complimentary 6E Prime voucher which includes benefits of priority check-in, book seat of your choice, a complimentary meal, and a quicker baggage claim.
Get 1 complimentary IndiGo base fare ticket voucher worth ₹ 3,000 when you complete 3 transactions or more in each of the first 3 months after the card issuance
Rewards

 Get 5% 6E Rewards on transactions done through the IndiGo website, mobile app, and other platforms.
Get 3% 6E Rewards on Grocery, Dining, and Entertainment spends.
Get 2% 6E Rewards on all other spends
Get 15% 6E Rewards from featured partners
The rewards are accrued with a minimum spend of Rs 100
Features

Get 8 Complimentary Domestic Lounge accesses per annum
Get a convenience fee of Rs 100 per person on domestic flight bookings done via Indigo on any platforms
One of the country's largest airlines and India's No. 1 bank have come together to provide you with a true airline service where all of your spendings gets transformed into IndiGo flights.
Get 1% Fuel surcharge waiver on a minimum spend of Rs 400 to a maximum waiver of Rs 500 per statement cycle
Through the Master Lounge Program, primary cardholders can get 8 complimentary lounge access per calendar year
A fee of Rs 2 is charged for lounge access
Enjoy the Good Food Trail Dining program at premium restaurants across the selected cities
Disclaimer
We give details according to specific bank data. But remember before going to pick up anyone's Credit card must visit the respective Bank's website. Check the details of the card like Fees, Interest rate, Rewards, etc. because it maybe changes. Hence you need to be aware of the changes happening in most out of your credit cards.
The information and services included on this Web site may include discrepancies. Paidkiya will not be liable/responsible for any decision that you may take based on such inaccurate information. Changes are periodically added to Bank's websites.